LogTag Drive is an online cloud storage for your files. Similar to many online file storage
services, you have the ability to view, manage and export your files.
The LogTag Drive is used for Loggers that haven't been attached to a Location.
Upload data to LTO via LogTag Analyzer
If you are uploading data from a logger via the latest version of LogTag Analyzer, the uploaded
logger file will show on the main dashboard in the 'Recently Uploaded Files' section or as a file
in LogTag Drive. Please refer to the LogTag Analyzer User Guide for more information.

From the Dashboard of the LogTag Drive page you can download the file in either LTD format (for use with Analyzer) or CSV format by clicking on the Action on the far right side. On the LogTag Drive page you have additional options like editing the Files name, adding labels for searching and deleting the file as well as the option to share the file with a public download link.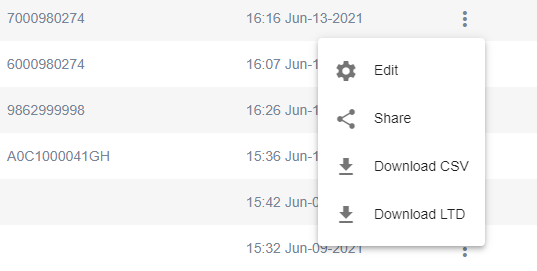 From the Dashboard or the LogTag Drive page you can click on the uploaded File Name to open that file to view and export the information contained in the file.
The file will initially open in the Chart tab allowing you to visually view the recorded data.
Going to the Report tab will allow you to view the recorded readings and also view and download a PDF report containing information about the data recorded in the file.